Posted by sue on August 2nd, 2008
For those two or three of you who have lamented our virtual abandonment of this blog, good news! I'm not working for the whole month of August, and have vowed to post 15 blog entries during the month, to share with you the details of Portugal living that I have, up to now, cruelly withheld from my eager readership.
I've decided to begin with coming clean about a few things I'm embarrassed about.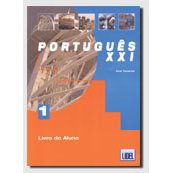 First item on the list: Portuguese. This is the cover of a Portuguese language textbook. I've owned this book since sometime in the fall, and have yet to finish working through it. My Portuguese is terrible. I mean, really, really, embarrassingly terrible, even after 15 months of living here. I can order food, and coffee, and drinks of various kinds, and sometimes understand miscellaneous things that are said to me, but I'm still really a beginner at the language. Not sure what to do now– study really hard these last couple of months, to end with a feeling of accomplishment? Or give up, thinking that I've lived here this long operating mostly in English, so surely I can carry on this way until I leave?