Posted by sue on 4th August 2008
To cap off a road trip we did a few weeks ago in a rental car, we drove with a couple of friends out to Cabo da Roca, the westernmost point in Europe. It's not all that far west of Lisbon, though the road to get there is pretty sickness-inducing for the delicate-stomached (don't know anyone like that…). It's notable for how cold and windy it is out there at the edge, even in July, so we just watched the sunset and took a few photos then retreated to the warmth of the car and then the further warmth of an Italian restaurant in Cascais.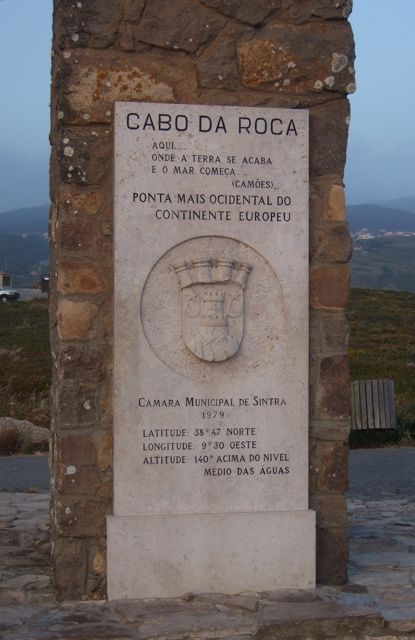 The quote on the marker here, "Aqui… onde a terra se acaba e o mar começa…" means simply, "Here… where the land ends and the sea begins…" Yeah, kind of obvious? This quote is attributed to Luis Camões, venerated Portuguese poet–The Rough Guide to Portugal quips that here his muse, for once it seems, deserted him.
Posted in Portugal | 20 Comments »